Hello Wikingers,
this week has been a week of
tiny bits and pieces!
Again we achieved some records, more or less a record month – well, actually we did not do it, YOU, the great Wikinger community, did it.
Website Record
Last month (September) was a great month, we had our Website Record Day as mentioned in the Weekly Wrap Up #16 with over 600 site views on one day.
Now guess, what, the whole month has been really good! Almost 12,000 site views, that is about 40% more compared to the previous month.
Google AdSense
You might have noticed, our AdSense is running, some ads are on the doctrinal pages and also on the right sided navigation bar. They produced some income, not much but every bit helps (something like 2 or 3 US$).
If you want to help us, please disable your Ad-blocker on WikingerEToW.com
Steam Group
You have been very active, thanks to you we now have over 400 members- keep inviting Wikingers! Still our biggest group, followed closely by YouTube whose subscribers are now over 360!
Modding Progress
This is what is really meant by the heading "tiny bits and pieces".
We've been busy with all the small things, some bugfixes, some optical things, added new ability, like the canister shot for the M2 M45mm ATG:
As always you can find the complete change log in our forum: here
But one thing I wanted to show you which will have a massive impact on the game play:
Tier Path Rework

We've made a big overhaul of the way all factions tier up in Wikinger, this is something that has been left over from the base game and has taken a few weeks of looking at all the values and then addressing them.  We started out with a fairly conservative leveling out of each faction to bring them more in line with each other.

Before – major imbalance between OKW, US and UK vs Wehrmacht & Soviets

After – with tentative favoring/penalties for advantages/disadvantages 

US, UK and OKW are all working on a four tier cost/time scale whereas Wehrmacht and Soviets have their costs and times split across seven upgrades/buildings.  We need to see how well this splitting has worked, can it be horribly exploited? Are some factions locked out of units while others get them too easily?

OKW gets a time (infantry truck only) and resource penalty (split across all three trucks) to allow for the fact that new units spawn directly from this first truck, it is a retreat point and it can heal units.

These times and values are in no way set in stone, this is an early development and we need extensive testing on these new times.
You see? lots of calculations behind this – these have been the easy ones, for the hard ones we still have experts from the community (yes Mor_Juliet, I am talking about you… you might call yourself a photonics student, but in my eyes you are a rocket scientist)….
Damage vs. Distance Calculations
If anyone here is able to verify the calculations from this thread – I can't.
Patch Progress
3.1.6D is complete, and will be releasing within the next 24 hours most likely.  We're very happy with the state of the mod, it's now in a place where we can take the time to build patches 3.1.7 and 3.1.8 and bring those to the community in the coming weeks and months.
Wallpapers
Death_Kitty asked for some wallpapers – we've add another section in the galleries and already filled it with 4 backgrounds.
Feel free to use them.
And if you are less rocket scientist and more artist (or both) it would be very nice to add some of your artwork. Put your name below it is you like, we will add the Wikinger logo and put it on this website… You can upload them in this thread here.
Personal Note from Lorarius
After the last week I am really happy to work for and with the Wikinger Team and also the Wikinger Community.
It is always nice to get in touch with you guys, it feels like a really good and friendly environment. I was kinda afraid we could loose our good connection from the Dev-Team to the Community, vice versa or there could be some fights within the community, but it is astonishingly quiet. As we now have grown much bigger since the new website is online, it is still very nice, friendly and a nice community to spent time with – thanks for that!
The rest of the Dev-Team thinks alike – big hug from us to the community!
Für die Deutschsprachigen
Schaut mal auf der website vom hq-coh.com vorbei, sie haben uns gerne aufgenommen in ihre Mod-Liste für Company of Heroes – als einzigen Mod für Company of Heroes 2!
Und wenn ihr schon dabei seid könnt ihr auch deren Facebook Beitrag hierzu ansehen, liken und teilen.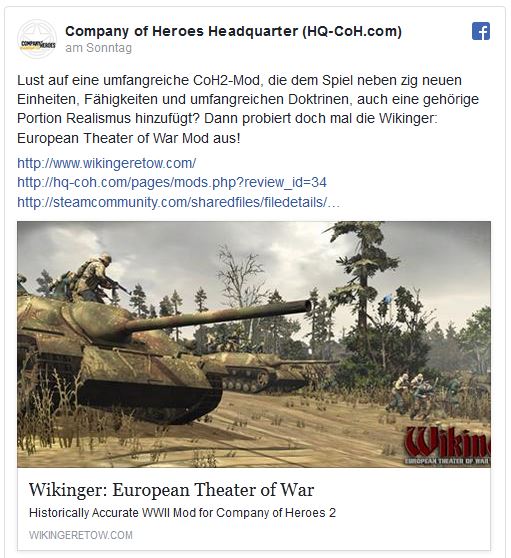 And for the non-German speakers: well, it's only German news… We made it on the mod list of a famous German Company of Heroes page. This should bring us some backlinks and some more players.
Until next time,
The Wikinger Development Team