Bien sûr, vous devez avoir téléchargé tous les fichiers nécessaires qui constituent le cœur du mod, dont le "win condition pack", qui vous permettra d'utiliser l'arbre technologique non linéaire. Si cette étape vous pose problème, nous avons un tutoriel ici qui détaille l'installation du mod, ainsi qu'un forum pour vous aider à résoudre d'éventuelles autres difficultés.
Démarrez le jeu de base Company of Heroes 2 Cliquez sur "En ligne & Escarmouche"
Cliquez sur "En ligne & Escarmouche"
Mettez en place une partie Escarmouche en cliquant sur "Créer une partie personnalisée"
Puis "Options"
Sélectionnez "Wikinger: European Theater of War" dans la catégorie "Tuning Pack"
Choisissez un des modes de jeu de "Wikinger: European Theater of War" dans l'option "Win Condition Pack"
Vous vous rendrez compte que les noms de nos modes de jeux commencent systématiquement par "Wikinger WCP:", suivi par le nom du mode en lui-même

Annihilation
VP (forme abrégée de "Victory Points", "Points de victoire")
Conquest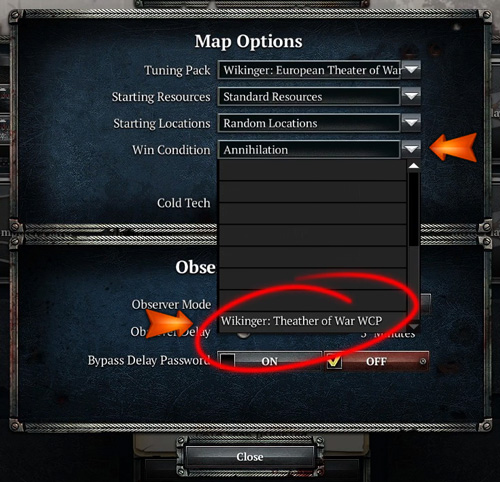 Nous avons aussi une option "High Zoom" pour les différents modes de jeu (parfois abrégé sous la forme de : "high" ou "HZ") qui nécessite d'avoir un ordinateur performant et les paramètres graphiques de CoH2 réglés sur "Élevés" : cette option vous permettra de dézoomer bien plus afin de profiter d'une vue plus tactique du champ de bataille.
Il y a aussi une variante relevant le plafond de population à 999.
Les joueurs avertis de Wikinger se souviendront probablement qu'il fallait désactiver les commandants du jeu de base : ceci n'est plus nécessaire, nous avons ajouté un script au cœur de notre "win condition pack" qui les désactive automatiquement.