IRON WILL is public now!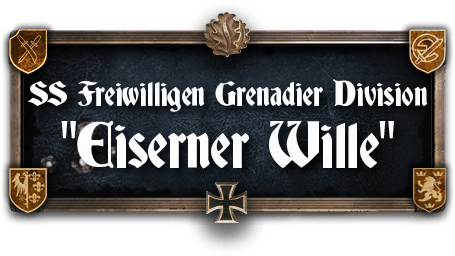 The Wikinger Devs have been working since months on it, and now it is finally ready.
Panzerwerkstatt Unlock

→

Panzer IV H Unlock

→

KV Series Dispatch
Panzerfaust
Truck
KommandoBunker

→

Rudel Loiter

→

Jaguar Dispatch

→

Tiger Gruppe Dispatch

↓

Airdropped Supplies

→

Manpower Boost
Emergency Defenses

→

Prepared Defenses

↓

SS Gebirgsjager Sniper Dispatch

→

SS Narwa Dispatch

→

SS Charlemagne Dispatch
Captured Artillery
Make sure your Steam workshop updates to the version 3.1.7 for the mod and also the Win Condition Pack.
If you are having trouble you can also try out the manual installation – a tutorial can be found here.
Changelog
The complete changelog is on our forum as well – it can be found here.
The major changes were:
Iron Will Doctrine
Fixed Razvedchiky incendiary barrage
Reduced damage for LeiH 18 auto fire for balance reasons
Reworked AP/HE/APCR switch for Tiger tanks. Now works in the proper way with the correct penetration values and reload times
Reworked HVAP/HE/AP switch for the Pershing and the Pershing Ace
Increased the price for Freiwilligen troops and Luftpioneer from 210 to 270.
Fixed SWS dispatch system. Now the first SWS will come after 20 seconds and the rest will arrive with a delay of 180 seconds after the set up of the previous one.
Added Churchill right & left hatch defenses. Now crew will shoot stens when enemy infantry is in range
3.1.7 Win Condition Pack
New game mode: Conquest
In an exciting turn of events, both the classic VP and annihilation modes meet as a fiery head on engagement on the battlefields of Wikinger: European Theater of War.
Using the Conquest game mode in Wikinger will turn any map into a match of unparalleled aggression, you will need to stay at least one territory ahead of your opponent or you will bleed tickets, the more territories ahead (or behind) you are the faster the ticket drain will be.
500/750/1000 ticket modes currently implemented
Community Updates
YouTube
Our friend Shermanator had the privilege of showcasing the new doctrine and the Conquest game mode to the public.
But he is not the only one, all of our Casters/Streamers had the chance to have an early view on the beta versions. VinnySOB and Bishop also got the first videos online:
Steam Group
The Wikinger Steam Group now has more then 500 members! Thanks for joining, thanks for sharing with your friends and many thanks for inviting new people to it.
Website
We came to the conclusion there will be no more Wikinger Weekly Wrap up.
It just takes to much of our most valuable ressource (time).
To ensure that we put in most of our efforts into modding we will publish updates monthly from now on.
So, this is why this is the very first monthly update post – the Wikinger December Update!
Modding
The doctrine we are already working on since some weeks is the last US one.
Christmas, new Year, holidays
The Wikinger Mod Team wishes everyone a nice season.
Enjoy your time with your families, friends and get some rest during some time off.
Also we would like to wish you all the best for the upcoming year!